On 19 July, we published our annual data on children's social care in England in 2017–18. One of our main areas of focus was on children's homes and their inspection outcomes. We'd like to reflect here on one aspect of this important part of Ofsted's social care remit: a gradual change in the number of homes.
Of the approximately 3,000 individual social care providers that we inspect, around 2,000 are children's homes. While the majority of children in care live with foster carers, about one in 10 children in care live in a residential children's home. These children often have complex needs that require specialist care and support and a residential home is a better option for them.
Trends in who owns and runs children's homes
Our figures for 2017–18 show that the number of children's homes continues to increase. There were 2,209 children's homes, of all types, on 31 March 2018. This was a net increase of 3% from the same time last year, and follows the patterns of previous years. While there has been an increase in the number of homes, we know that pressures still exist in finding the right placement for children.
At the same time as the number of children's homes rise, the number of local authority (LA)-run children's homes continues to fall. The chart below shows the steady, if slow, downward trend of LA-run homes over the last 4 years.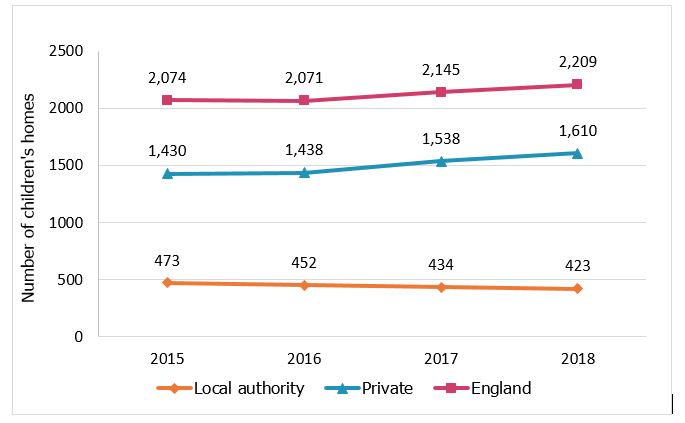 On 31 March 2018, LAs ran 19% of all children's homes, compared with 23% in 2015. In 2018, more than one in 4 local authorities (44) do not run any children's homes in their area.
There are many possible reasons for this trend. Small local authorities may not be able to fill all the places in their own provision and often they serve a much wider area. An organisation with a portfolio of homes, such as a charity or a chain can get economies of scale in terms of management oversight, quality assurance and so on. A recent review of residential care in England indicated that there are usually a higher number of staff on duty in LA homes than those run by private organisations.
Another reason might be about being able to meet the specific needs of children. Children with complex needs might need access to therapeutic care and require placements in homes that specialise in a certain type of care. For LAs, it is potentially more cost-effective to buy a specialist place rather than run several homes with each specialising in a different type of care.
Changing picture
There is a growing demand for children's social care services, with a record number of children coming into care not least because of a rising child population. This demand is increasingly being met by the private sector. Excluding re-registrations, of the 169 new homes opened in 2017–18, 86% were opened by private organisations. Re-registrations can happen when a children's home moves site or changes owner or legal status.  The number of privately owned homes has increased year on year over the last 4 years (now 1,610 or 73% of all active children's homes in England on 31 March 2018). The map below shows the distribution of all children's homes by sector.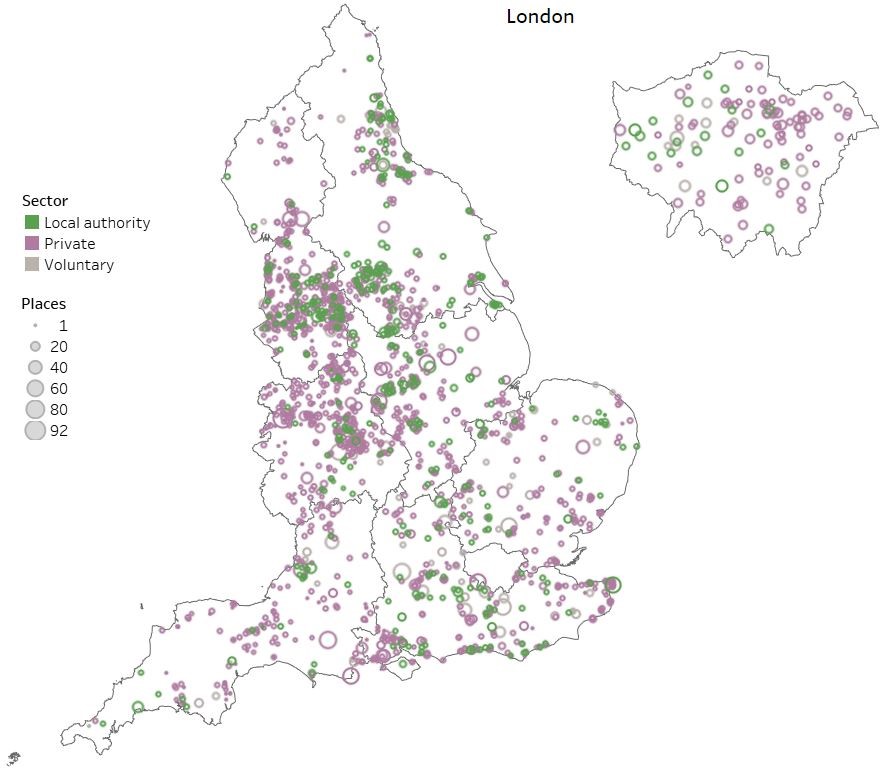 In last year's Annual Report, we commented on the changing picture of who is opening children's homes over time. Large organisations (those with 10 or more homes) are increasing the number of homes they open each year. In late summer 2017, 33 large organisations ran 36% of all children's homes in England. The 5 largest private organisations owned around 17% of children's homes.
We want to understand more about the developments in private sector ownership and are gathering data to help us to do that. In the autumn, we will be publishing the inspection profile of the top 10 largest private organisations.